Regular price
Sale price
$12.00 AUD
Unit price
per
Sale
Sold out
Tea Tree Essential Oil was used by Australian natives throughout history to treat cuts and wounds. In 1770, British explorer Lieutenant James Cook landed in Australia and discovered Tea Tree through the Aboriginal people. Though he promoted the incredible healing properties of the plant, it was largely forgotten until 1923 when an Australian chemist named Arthur Penfold reported that the antiseptic properties of Tea Tree oil worked 12 times as well as the commonly used antiseptic at that time. By World War II, Tea Tree oil had become the go-to antiseptic for Australian soldiers.
Tea Tree essential oil is one of the few oils that is only cultivated in its native place: Australia, mainly in Queensland and New South Wales. The plant is a small tree with needle-like leaves and fluffy white flower masses. True Tea Tree is extracted using steam or water distillation from the leaves and twigs of the tree.
The spicy and camphoraceous aroma of Tea Tree essential oil is very distinct. Many people consider the pale yellowy-green liquid to have a medicine odour that can be improved by blending it with citrus oils like Lemon, Orange, Grapefruit, and Bergamot. Tea Tree essential oil's long list of therapeutic benefits include those of anti-inflammatory, antiseptic, antiviral, expectorant, fungicidal, and parasiticide.
Physically, Tea Tree essential oil is extremely useful. It can work just as effectively as benzoyl peroxide to fight acne when applied to the face with coconut oil or raw honey. Tea Tree also makes a great addition to shampoos and conditioners because it can moisturise the scalp, remove dandruff, and even prevent lice. More than anything else, Tea Tree essential oil is known for its ability to fight off infection, fungus, and bug bites. Its antimicrobial power makes it perfect to treat minor cuts, scrapes, and burns, and its natural antibiotic abilities help to fight any sort of infection, including respiratory and sinus problems.
In addition to physical benefits, Tea Tree is also a valuable cleaning tool. Just 15 drops of Tea Tree oil and 15 drops of Lemon oil with 1 cup of water and half a cup of vinegar can clean and disinfect household surfaces. It can even kill mould if sprayed directly on the mould or diffused into the infested room.
Tea Tree oil blends well with Lavender, Clary Sage, Rosemary, Geranium, Clove, and Nutmeg essential oils.
View full details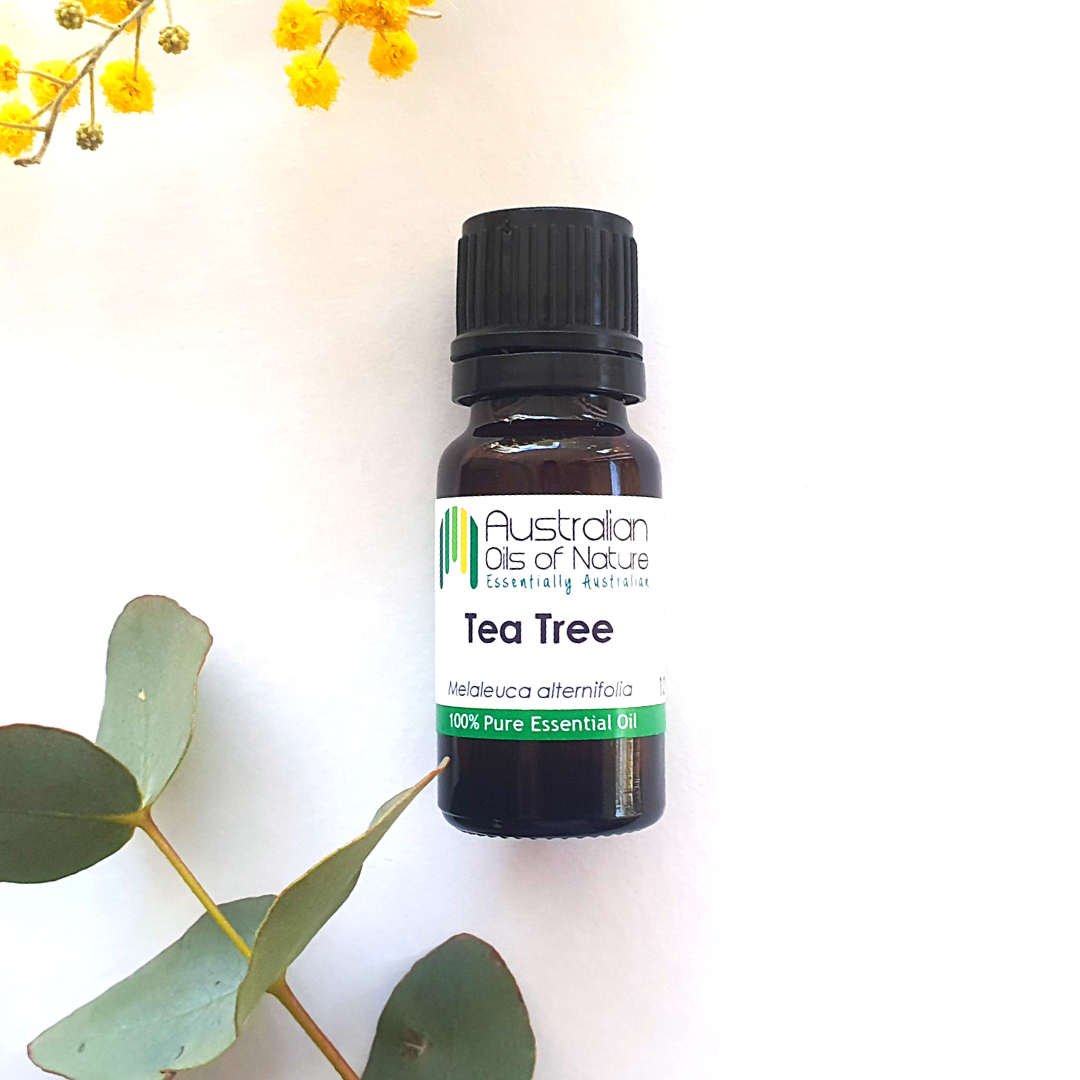 Free Shipping

Spend $75 too receive free standard shipping Australia-wide.

Quality Guarantee

No additives, no preservatives and no fillers. 100% pure ingredients.