Regular price
Sale price
$45.00 AUD
Unit price
per
Sale
Sold out
Sandalwood New Caledonian Essential Oil is known as an affordable and sustainable alternative to Indian Sandalwood oil. As with other ancient essential oils like Cinnamon, Olibanum, and Chamomile, Sandalwood has a rich history in traditional Chinese, Ayurveda, and Australian Aboriginal medicine. It was first used more than 4,000 years ago and has been valued in India as one of the most sacred trees. Buddhist monks inhaled Sandalwood prior to meditating, and medicine men used it to treat stress, insomnia, acne, and eczema.
Though the most recognised Sandalwood oil is the Santalum album oil from India, that form of Sandalwood is nearly extinct due to years of poaching and over-harvesting. The New Caledonian is one of a few Sandalwood varieties cultivated sustainably to meet the demand for Sandalwood without endangering the Santalum album.
The New Caledonian Sandalwood tree is native to the South Pacific island. This small tree with grey bark and green leaves flowers after 6 to 7 years, while fruit matures in only three months. Sandalwood New Caledonian Essential Oil is gathered through steam distillation of the wood.
The warm and beautifully scented Sandalwood New Caledonian Essential Oil boasts may properties that make it therapeutically valuable in emotional and physical capacities. It's a pale yellow oil high in santalols, which is the compounds that makes Sandalwood so distinctive and useful as an antiseptic, anti-depressant, anti-inflammatory, astringent, expectorant, sedative, and tonic.
Emotionally, Sandalwood New Caledonian Essential Oil is grounding, calming, and relaxing. Many people use it to quiet "mind chatter" and achieve mental clarity, which makes it a promising sleep and meditation aid when blended with Frankincense or Lavender. Sandalwood is also known to be an aphrodisiac, especially when mixed with Ylang Ylang or Rose oils.
Physically, pure Sandalwood New Caledonian Essential Oil is prized as an antibacterial that can fight against infections just like Tea Tree oil. Sandalwood is also a skincare favourite that's useful to treat dry skin, acne, eczema, and other irritated skin conditions.
New Caledonian Sandalwood's smooth, buttery aroma blends well with floral scents and citrus oils such as Bergamot, Cedarwood, Geranium, and Lemon.
View full details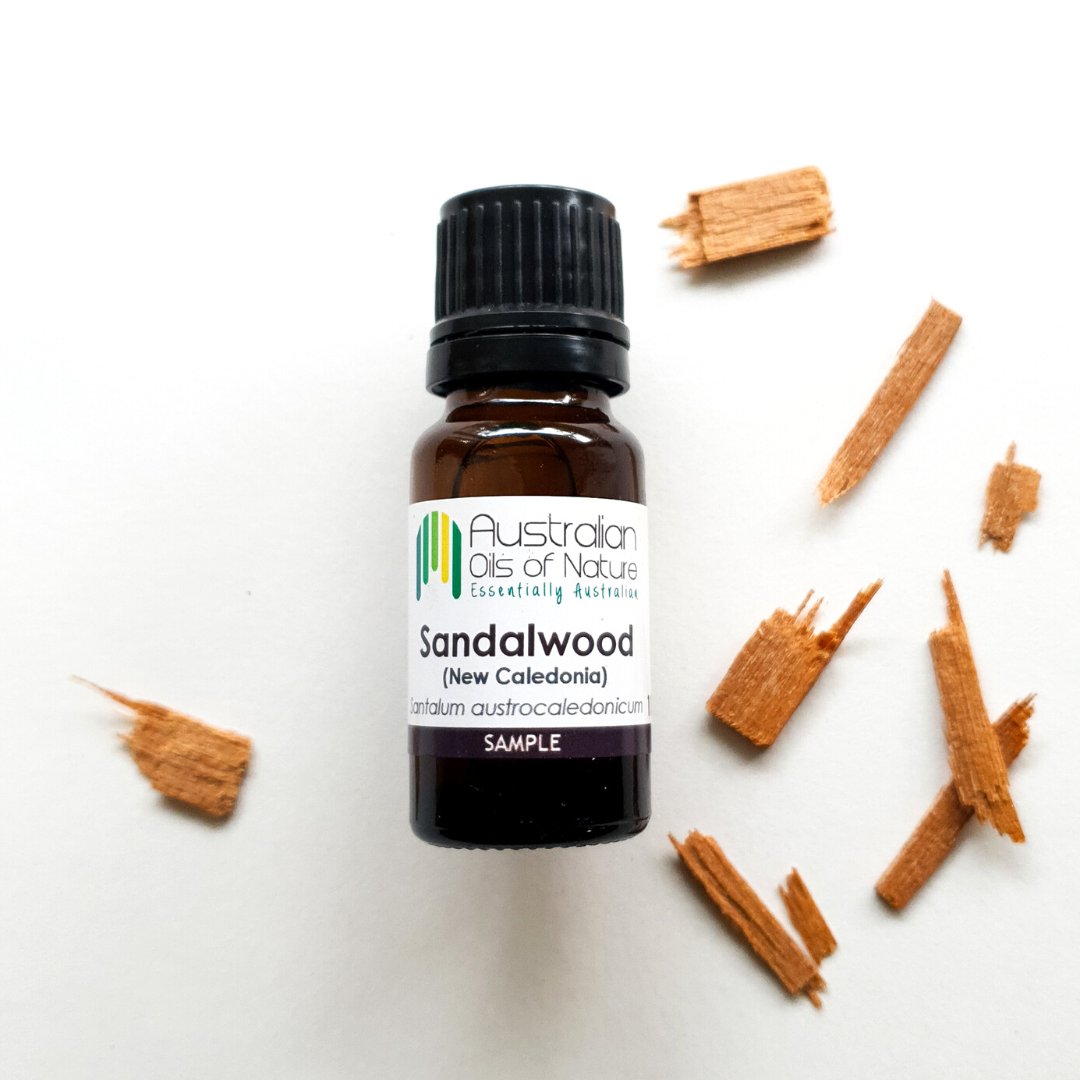 Free Shipping

Spend $75 too receive free standard shipping Australia-wide.

Quality Guarantee

No additives, no preservatives and no fillers. 100% pure ingredients.