Regular price
Sale price
$83.50 AUD
Unit price
per
Sale
Sold out
Myrrh essential oil is steeped in rich history, and many people recognise it as one of the gifts, along with gold and Frankincense, brought to baby Jesus by the three Wise Men upon his birth. Through biblical times, as well as in ancient Chinese and Egyptian medicine, Myrrh was highly valued in religious ceremonies, meditation, and natural remedies.
Myrrh oil comes from the bitter dried resin, or sap, of the Commiphora myrrha tree. The tree is native to North Africa and the Middle East. In fact, it's believed that this oil earned its name from "murr", which means "bitter" in Arabic. The distinctive Myrrh tree stands out with white flowers, a knotted trunk, and sparse leaves due to dry desert conditions. Myrrh oil is extracted by cutting the tree trunks to release and collect the resin, which then undergoes steam distillation.
Pure Myrrh essential oil is yellow to orange in color with a smoky, sweet, and even bitter smell. This makes it popular in perfumes and fragrances, but its primary active compounds, terpenoids and sesquiterpenes, have powerful antioxidant and anti-inflammatory properties. Myrrh is also known as an antiviral, astringent, expectorant, stimulant, immune booster, and tonic.
Emotionally, Myrrh oil encourages mental wellbeing by promoting healthy attachment and trust. As a stimulant this oil can also boost the brain and nervous system for optimal alertness and concentration.
Physically, Myrrh oil offers a wide range of applications. It works well for respiratory problems like coughs, colds, and congestion, but can also restore digestive health and strengthen the immune system. A blend of Myrrh, Lemon, and Chamomile makes a great cough buster. Myrrh essential oil is also a great remedy for gum and mouth problems including toothache, gingivitis, and ulcers. The stimulant properties of Myrrh also make it an effective circulation booster, which helps rejuvenate the skin and alleviate muscle pain.
Myrrh's aroma blends well with a number of other oils including Bergamot, Chamomile, Clove, Cypress, Frankincense, Rosemary, and Sandalwood.
View full details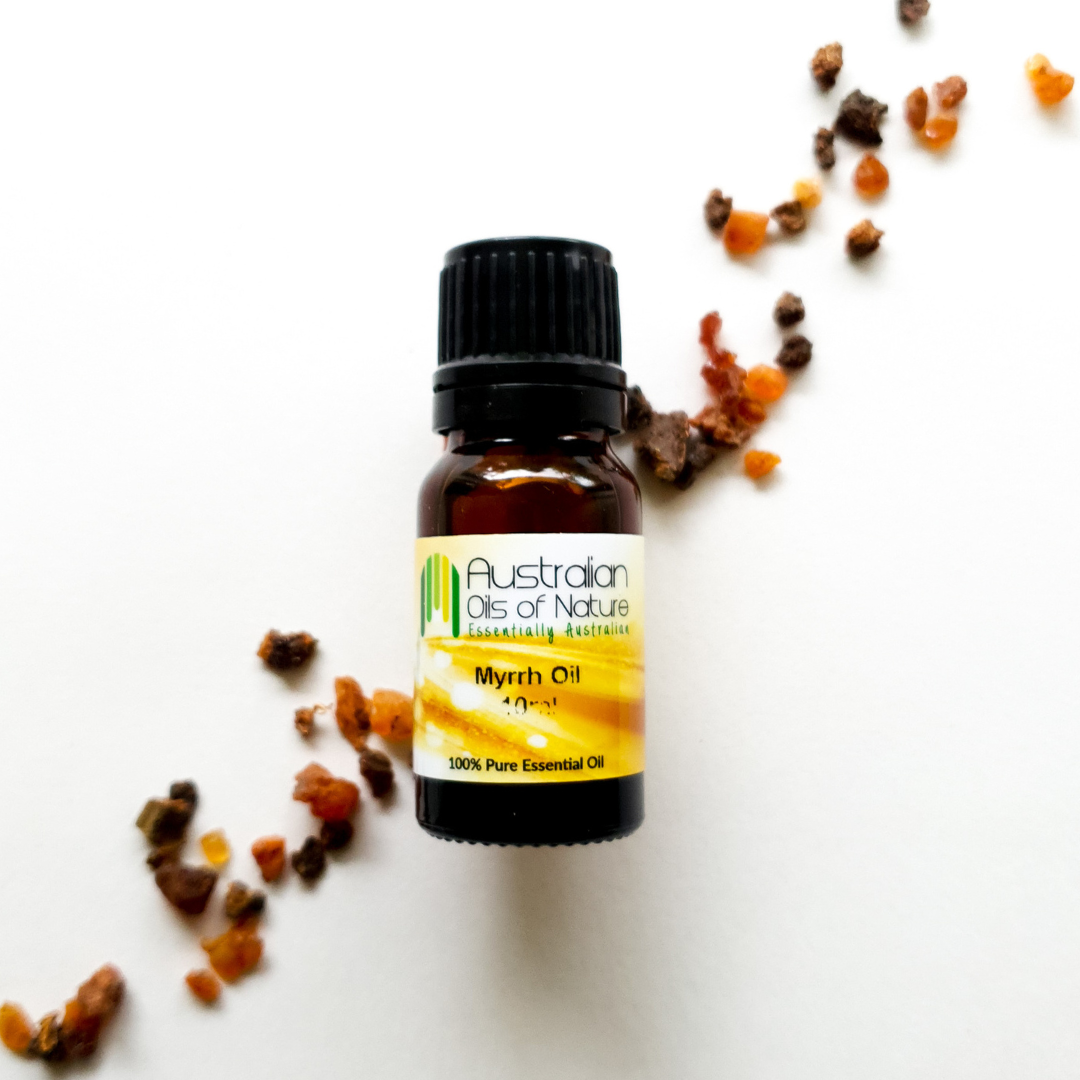 Free Shipping

Spend $75 too receive free standard shipping Australia-wide.

Quality Guarantee

No additives, no preservatives and no fillers. 100% pure ingredients.