Regular price
Sale price
$34.00 AUD
Unit price
per
Sale
Sold out
Humankind's love for cocoa has existed for thousands of years. More than 3,000 years ago the South American Indians began using the Cacao tree, and the Mayans and Aztecs considered it a source of divine ambrosia bestowed by the gods. When Spanish explorers brought cocoa beans back to Europe from the New World, love for chocolate drink spread immediately. In fact, a tax was placed on hot chocolate in the 17th century since it was so popular. It wasn't until 1828 that a hydraulic press was used to squeeze out the cocoa beans' oil, and cocoa butter was first produced.
The Cacao tree is native to the Americas near present day Colombia and Venezuela. Wild Cacao trees still grow there, but they are now heavily cultivated in West Africa. The fruit of the Cacao tree is a large football shaped fruit with many beans inside. These cocoa beans are gathered, roasted, stripped, and then ground into cocoa liquor. Cocoa butter itself is finally produced when the cocoa liquor is pressed under high pressure to separate all of the fat out of the liquid that then solidifies into butter.
Unrefined cocoa butter has a rich, sweet, chocolate-like aroma, while refined cocoa butter smells more neutral. The butter is a light tan colour and stays solid at room temperature. It is easiest to melt cocoa butter by breaking it into pieces and soaking it in a container in hot water. Cocoa butter is a healthy fat source that contains a large number of antioxidants, so it is not only nutritious but also boasts a strong shelf life.
Cocoa butter is a powerful healing agent for the skin. It is best known for its use in preventing and treating stretch marks, particularly during pregnancy. This butter can also reduce and heal dry or peeling skin since it makes such an excellent moisturiser. The antioxidants and saturated fats found in cocoa butter are easily absorbed into the skin and remain for a long time. Of course, the same rule applies for fighting signs of ageing and soothing burns and infections with cocoa butter. It is even gentle enough to use as a natural remedy for eczema and dermatitis, especially when blended with the right essential oils!
For an all-natural healing homemade body butter, whip ½ cup Shea Butter, ½ cup Cocoa Butter, ½ cup Coconut oil, ½ cup Almond oil, 15 drops of Lavender essential oil, and 15 drops of Geranium essential oil. Your dry skin will suddenly feel silky smooth!
View full details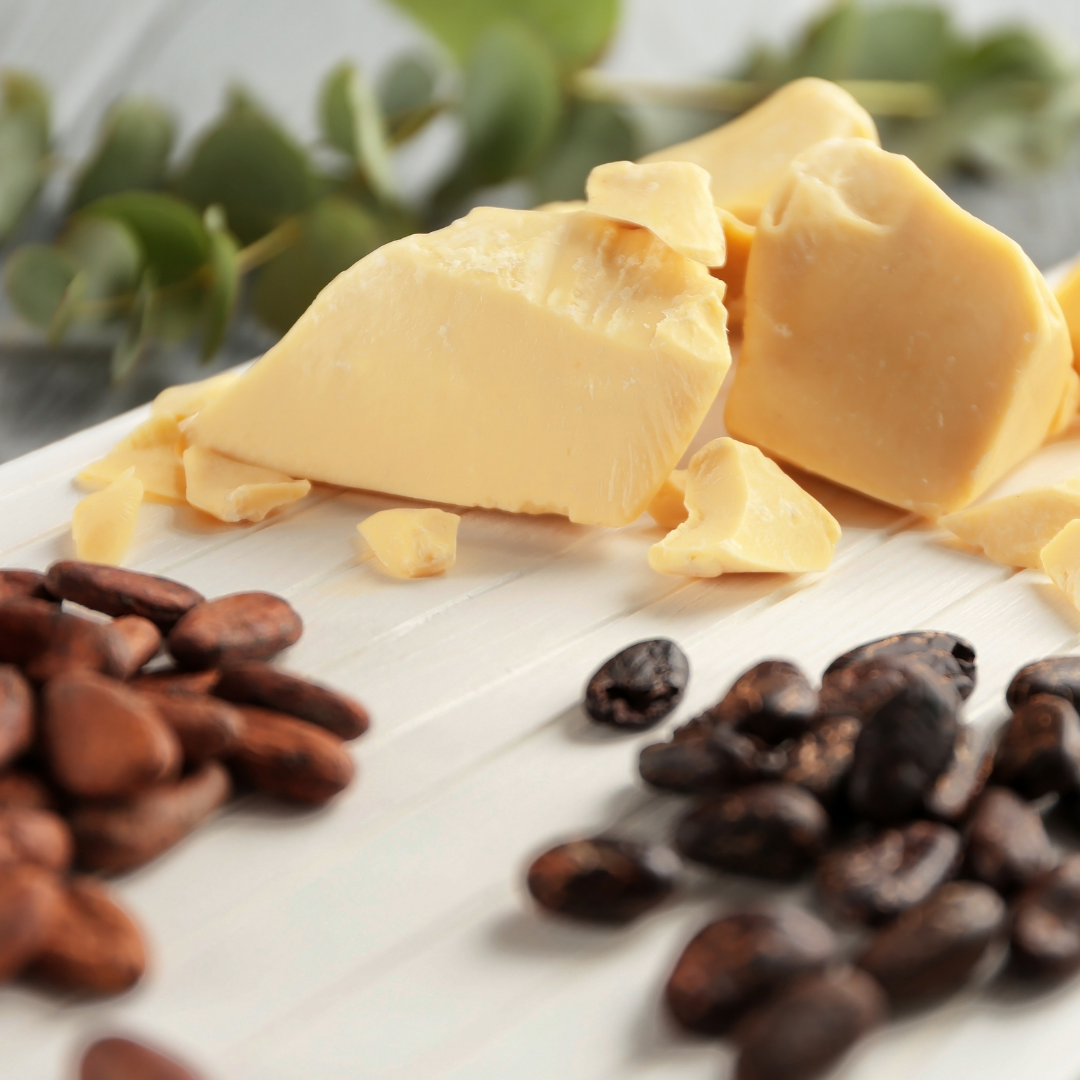 Free Shipping

Spend $75 too receive free standard shipping Australia-wide.

Quality Guarantee

No additives, no preservatives and no fillers. 100% pure ingredients.